Espionage's Manual
Espionage's manual is available from the main menu, and online here.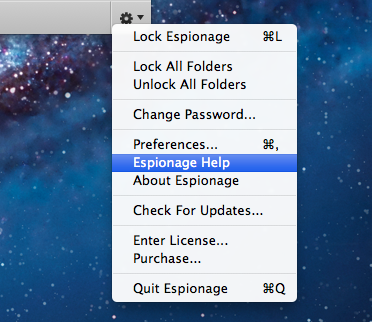 Frequently Asked Questions
Can I use Espionage 2 and Espionage 3 together?

Sortof: we recommend renaming the previous version of Espionage to Espionage2, and having both of them in your Applications folder. Also: the Espionage 2 application will not open if Espionage 3 is running, however, the Espionage 2 helper application (the icon in the menubar) *can* run simultaneously with Espionage 3.

What happened to the password prompt and application associations?

These features were removed from Espionage 3 because several reasons: (1) it turned out to be very difficult for us to support third-party applications, and (2) the iSpy kernel extension is not allowed on the Mac App Store, (3) there were technical issues between Espionage 2 and certain Lion features (4) we feel that FileVault 2, now available in Lion, is an adequate solution to encrypting application data, whereas the original version of FileVault left much to be desired. We recommend using FileVault 2 and Espionage 3 together. Please see the full announcement for more information.

Is it possible to encrypt application data with Espionage 3?

Even though we removed application associations, yes, it is still possible. Just find the folder the application keeps its data in and encrypt it. Then, make sure the folder is unlocked prior to running the application. The easiest way to do this with Espionage 3 is to set the folder to autounlock when you login in the Folder Details.

How can I move my Espionage 2 folders into Espionage 3?

Remove the folder from Espionage 2 and wait for it to restore completely, then add it into Espionage 3.

What happened to the Mac App Store version of Espionage?

We were forced to remove it because of Apple's sandboxing restrictions. If you purchased Espionage on the Mac App Store, please read this blog post.
Question not answered by the FAQ or Manual?
If your question hasn't been answered on the forums, you can contact us here, but we strongly encourage search the forums first.